LabGroups
Overview
Groups can be used to bring together users and their documents. Being in a LabGroup enhances collaboration, through instant sharing of documents with the whole group, or easily accessing individuals in your group. LabGroups can be created for any subset of users, but must always have a PI (Principal Investigator) in charge of and overseeing the group's work.
LabGroup Roles
Every group member can have one of three roles:
PIs have permission to view all documents owned by members of the group and may administer the group's membership. A PI can create Lab Admins, and therefore delegate some administrative responsibility to other members of their LabGroup. See The PI Role for more.
Lab Admins have permission to administer the group (e.g., add/remove group members), but do not by default have the ability to view all content pertaining to the group. See The Lab Admin Role for more.
Users do not have permissions to view documents (unless explicitly shared) or administer the group's membership.
While being PI of a LabGroup, you can also:
Become a user or Lab Admin in other groups created by yourself or other users
Become PI of more than one group or create new Groups with yourself as PI or Lab Admin
Initiate Collaboration Groups in conjunction with other PIs
Users who become PI of a group will acquire a PI role just for their group; their roles in other groups will not be affected. Users can have different roles for each group they are in.
Creating a New Labgroup
Please see Creating a New LabGroup.
Viewing a LabGroup
If you are not a PI, your LabGroup page will offer less options than the PI view of the page.
Users can easily see information on the members of their LabGroup, group activity, as well as pending invitations and disabled accounts.
If you're a PI, you can view the LabGroup page by going into My RSpace > My LabGroups: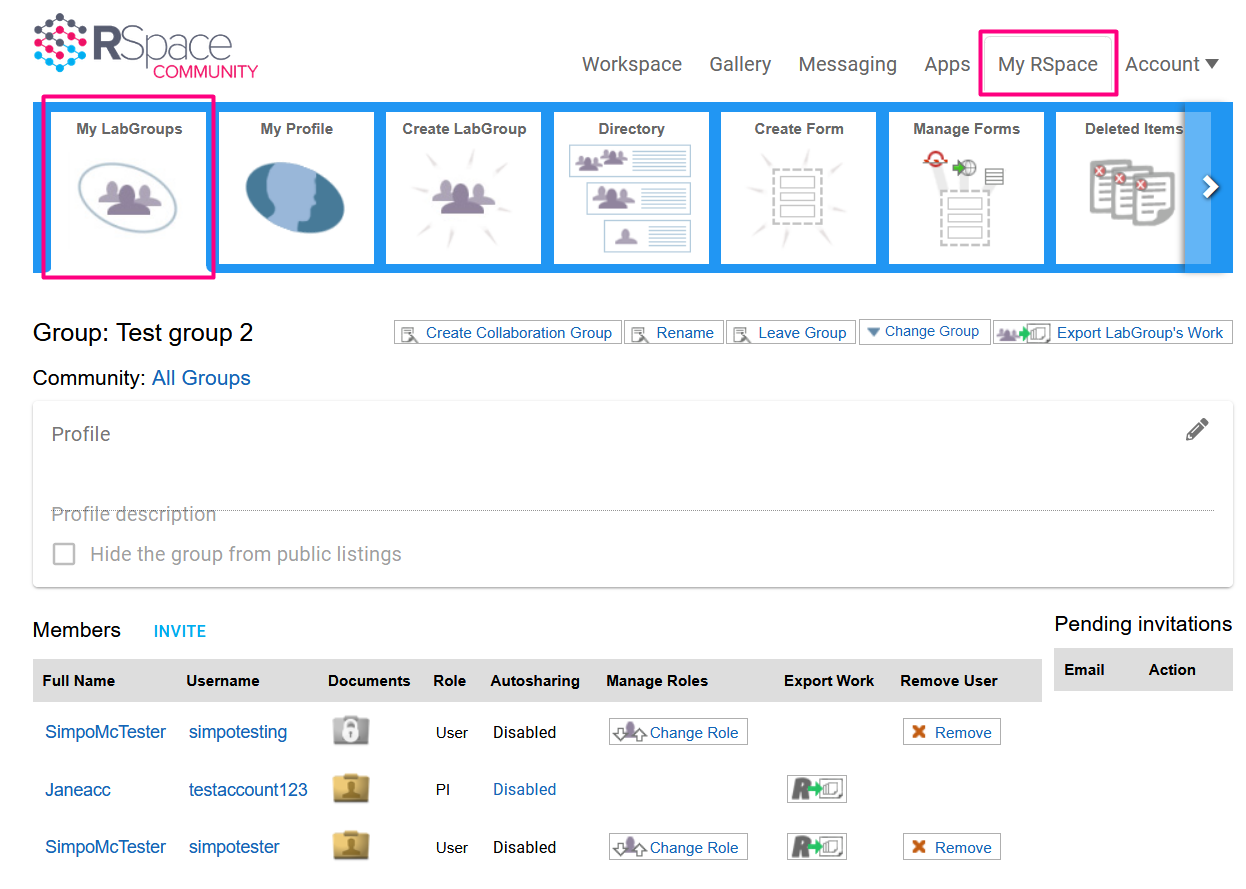 If you are a member of a LabGroup, you can view the LabGroup page by going to My RSpace > My Profile, and clicking on the relevant group name under LabGroups: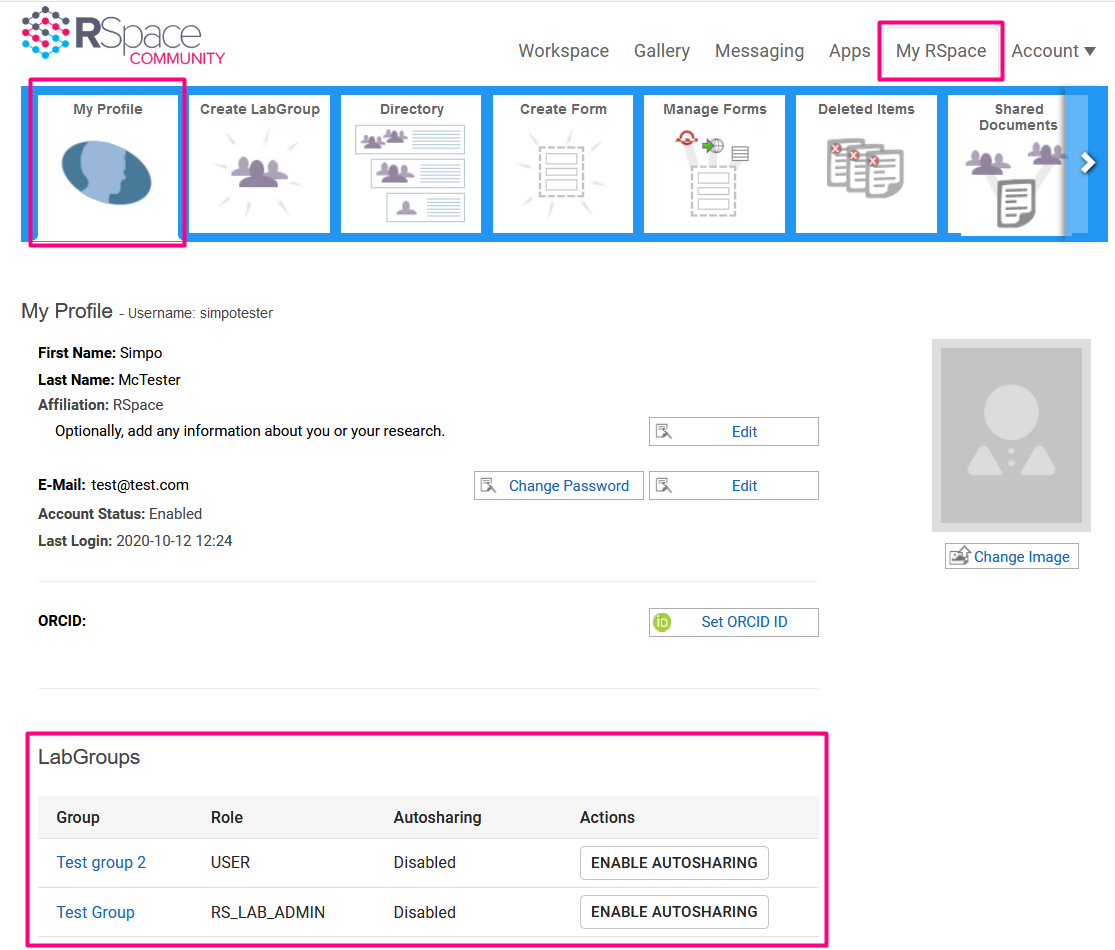 You can switch which LabGroup you are viewing by using Change Group on the right-hand side.

In the Member's area, you can open a miniprofile by clicking on a user's full name or username. You can then click on Open Profile to view more detailed information about that user.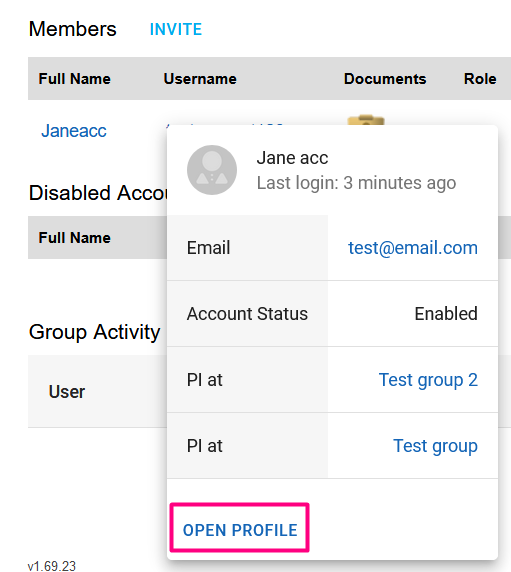 Managing a LabGroup
The LabGroup page is where:
Users can leave the group (if on Community) or PIs can remove users (if on Team or Enterprise)
PIs can change user roles, view user's work (by clicking on the folder icon next to a user's username), and edit the LabGroup's information. Note that if a user in the LabGroup is a PI of a different group, the PI will not be able to browse that user's documents, to increase privacy.
PIs can export an individual user's or the entire LabGroup's work by following Exporting a LabGroup's Work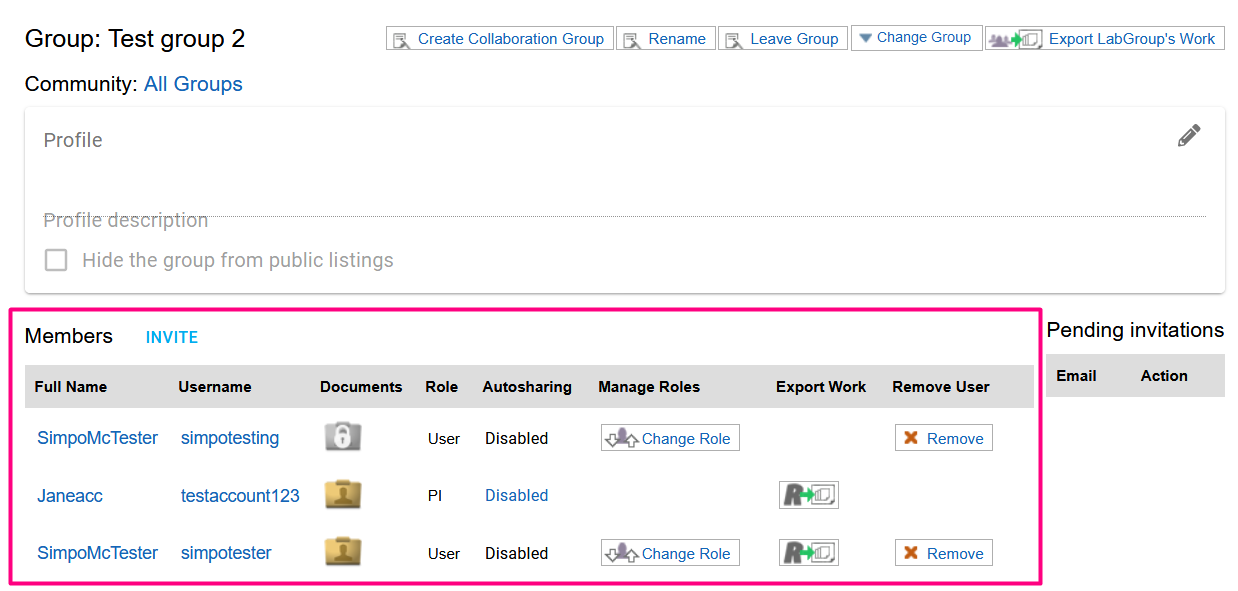 Group Management Permissions Table
The following table summarizes the roles needed to perform various group management actions:
| | | | |
| --- | --- | --- | --- |
| Function / Role | User | Lab Admin | PI |
| Add and remove users from their group | | Y | Y |
| Alter roles of people within their group | | Y | Y |
| Organise content that is shared within the group | | Y | Y |
| View content created by group members | | (Y)* | Y |
| Create collaboration groups with other PIs | | | Y |
| View and search the audit trail for work performed by group members | | | Y |
| Export and archive the group's work | | | Y |
*if enabled by PI during LabAdmin assignment, see The Lab Admin Role.
Add New Members to a LabGroup
You can invite new members by:
Clicking on Invite next to Members in My RSpace > My LabGroups:

Type in the names, usernames or emails of users you want to invite and click on the autocomplete suggestions to add them to the list. You can also invite non-RSpace users in the New Users list using their email address, if using RSpace Community. Clicking Invite will send the invitation to all users added to either list; you will be able to see pending invitations on the LabGroup page.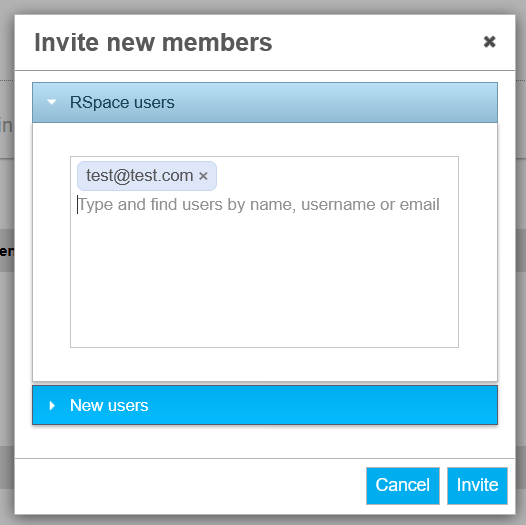 New group members automatically see other members' shared documents.
Leaving or Removing a User from a LabGroup
In RSpace Community, a user can remove themselves from a Group, by going into My RSpace > My LabGroups > Leave Group:

In RSpace Team and Enterprise, the PI or LabAdmin needs to remove the user by going into My RSpace > My LabGroups and using Remove User action in the Members list:

If a user is removed from a group, they will no longer see shared documents. Similarly, deletion of a whole group will unshare all previously shared documents between group members.
Sharing with a LabGroup
Sharing is explained in Sharing Content; if you select Share with Group you will be able to choose which LabGroup to share your document(s) with. Working with shared content is explained in Viewing and Organising Shared Group Content.
---
---