PyRAT Integration
This integration is only available to users on an Enterprise instance of RSpace.
PyRAT
PyRAT is a web-based animal colony management system. This integration enables you to browse and filter PyRAT, and to import records from PyRAT as tables into your RSpace notebook.
There is some initial, one-time setup required. Permission must be obtained from Scionics, the makers of Pyrat.
supportATscionics.com
. They will issue a client ID. This client ID, and the URL of the Pyrat instance must then be set on RSpace server deployment.properties file. Either Research Space can perform this, or an on-premises RSpace administrator. Details of the properties are in the RSpaceConfiguration.md configuration document included with RSpace distribution.
Configuration
Getting set up is quick and easy. In order to use PyRAT, make sure an administrator has configured RSpace to use PyRAT and has set it as 'Available' in the System->Configuration panel.
1. You will need a personal access token, which you can request from your PyRAT admin:

2. Now, in RSpace, go to Apps Page and enter your key, enable the App, and save. After you've saved, the App panel should look like this:

You can update your token at any time by entering a new value and clicking 'update'.
Using PyRAT from RSpace
You can access PyRAT from the text editor toolbar.

Clicking the button opens a paginated listing of entries (some columns are redacted for privacy):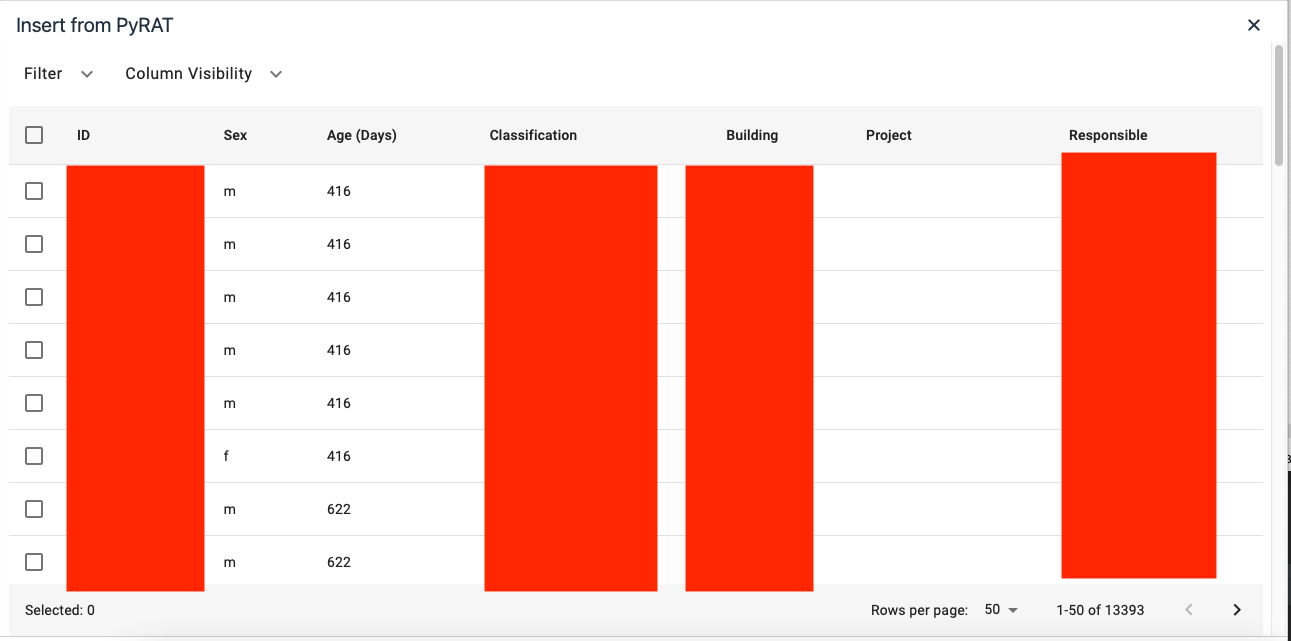 You can filter results and also choose which columns to display:

To insert data into RSpace, select the desired rows using the checkboxes, then 'Insert'. A table will be added to RSpace text field with the visible columns.

---
---