Simpo Searchbar
Clicking on the Need Help? button on the bottom-right of your screen will open a searchbar, which you can use to search for the following directly inside of RSpace:
help documentation articles and videos (the same content as https://researchspace.helpdocs.io/)
walkthroughs:

Initial onboarding tour
Create and Edit a Basic Document
Create a Folder
Upload an Image to Gallery
Search by ID

actions:

Change my password
Change my email

ways to contact us, such as email, and Intercom is still available under the "Chat with us" option.
If you don't see this feature, it is either because your System Administrator has chosen to disable it, or some of your adblockers/privacy plugins are blocking it (you'll need to whitelist Simpo to be able to access it). See below for information on how to enable this feature as a SysAdmin.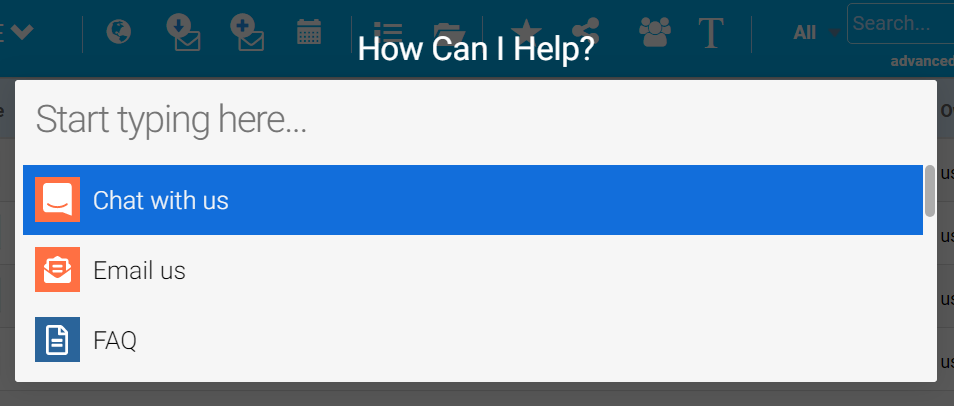 Enabling/disabling Simpo and Intercom
This section is relevant to System Administrators only.
The simpo.enabled property controls whether the Need Help? button appears, while analytics.enabled controls Intercom & Google Analytics. Please refer to the table below on what behaviour to expect when setting these deployment properties:
| | | | | |
| --- | --- | --- | --- | --- |
| Condition | 1 | 2 | 3 | 4 |
| analytics.enabled | True | True | False | False |
| simpo.enabled | True | False | True | False |
| Actions | 1 | 2 | 3 | 4 |
| 1 Simpo available? | Y | N | Y | N |
| 2 Show chat option within Simpo | Y | N | N | N |
| 3 Show Intercom native chat option | N | Y | N | N |
| 4 Show helpdocs link in footer | N | Y | N | Y |
---
---