RSpace Inventory Hub 🧪
RSpace Inventory is a sample and inventory management module that integrates fully with RSpace, and is currently in development.
The production (Beta) release of Inventory is scheduled for the 8th of September 2021. After this date, all Enterprise customer instances will be upgraded to include Inventory, at no extra charge. Inventory development will continue after the Beta release as per the development roadmap and user feedback.
This page contains details on how to access the alpha version, information on our development progress, and how to get involved in providing feedback and signing up to receive updates.
Access the Inventory Alpha
The Alpha version is meant to give an idea of the functionality and interface of Inventory; only a limited number of features are implemented. The Alpha instance is not suitable for real-life use, and content on the instance might be deleted. As such, please do not use the instance for real-life sample tracking.
The most recent alpha release of Inventory is available at the link below. Use the sign-up code: inventory2020 when creating a new user, and you're good to start exploring, whether on a mobile or on a desktop device! The features currently implemented are documented in the roadmap and release summary down below.
Supporting materials
We've written up documentation on how the current Inventory features work:
The release section below summarises what workflows are supported and have been added to the most recent inventory alpha release.
Provide Feedback & Get Notified
To provide feedback on Inventory Alpha, please fill in the following form:
To get updated on progress and feedback opportunities, fill in the following form:
If you have questions, bug reports, or have trouble accessing the alpha version, get in touch:
Development Progress
You can view our planned features and progress here: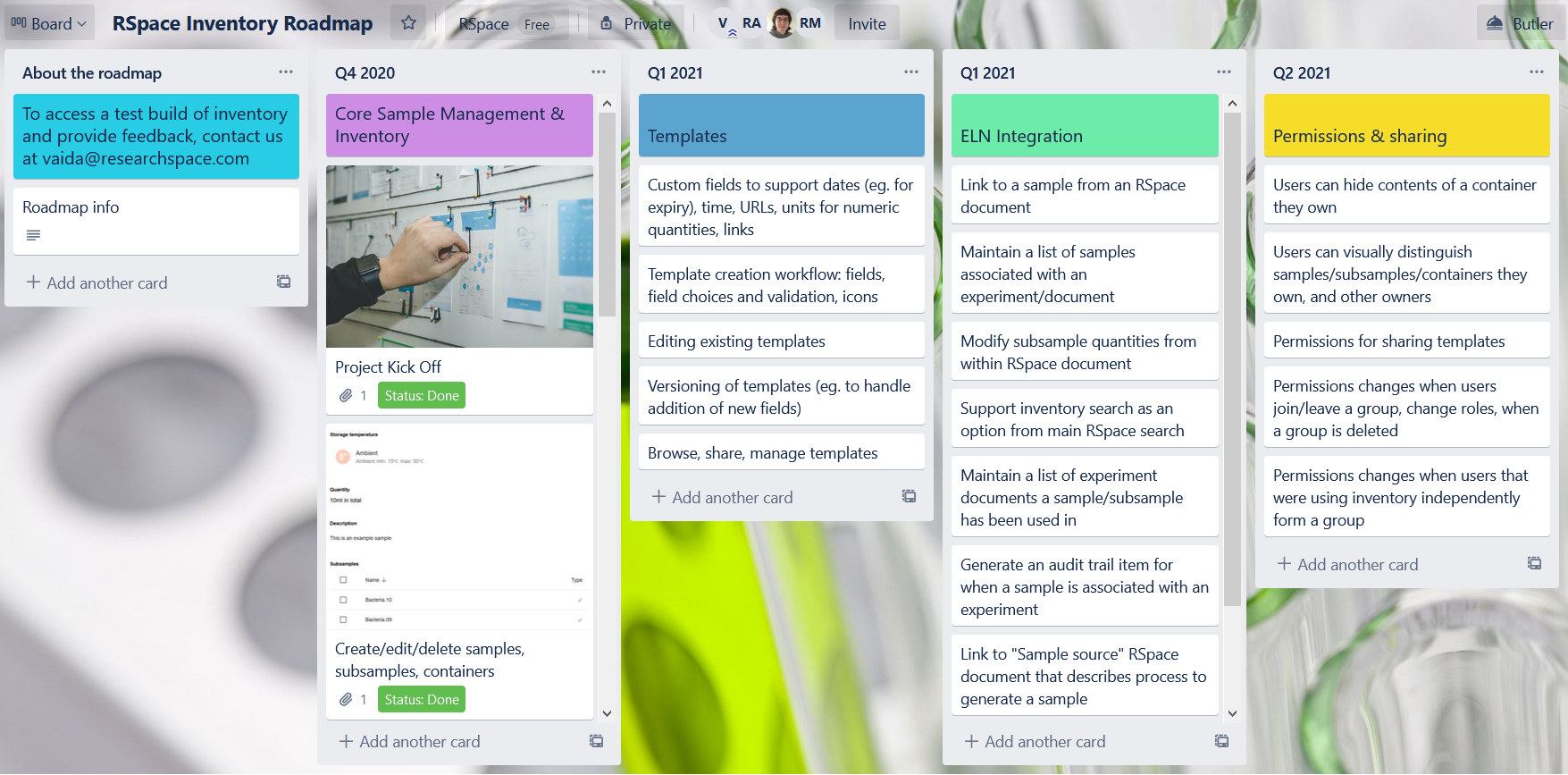 ---
Release #5 - May 2021
This release is focused on permissions & sharing! We've implemented the foundations of open lab-type sharing, where members of your LabGroup can view and edit each other's samples. Email us to set up a test LabGroup and check out these features! We have also made improvements to navigation and selection.
Also, did you know that Inventory is being developed with an API-first approach? This means you can already explore the API through our Inventory Alpha instance, and all the actions that can be performed through the user interface can also be performed through the API. See Inventory API Introduction for more!
2 minute overview video
Email us to set up a test LabGroup: vaida@researchspace.com
Features
---
Release #4 - April 2021
With this release, we bring out a major new feature: sample templates! We have made some general user experience improvements as well, see the video for more details.
What is more, our Inventory roadmap has been overhauled, and now includes detailed information on the exact dates that new releases will come out, as well as a date for the release of Inventory Beta: 8th September!
5 minute overview video
Features
Templates
Create a template from a sample: reuse its fields, define which fields should have default values
Edit a template: add new fields, add or remove default values for the fields, add additional radio/choice field options
Template versions: update all samples to the latest version of a template, view the template version used on a sample, with the ability to update that specific sample to the latest version
View all samples created from a template
View and search templates
Detailed templates documentation is at Create and Use Sample Templates.
General
Replaced the location and type columns by the global ID of the item across the interface, which can be clicked to open, or right-clicked to copy a link to the item (Link to a Sample or Container (Global ID))
Further improved info popups: added global IDs of items, made more concise for containers (Navigate Inventory)
Added links to a subsample's sample when viewing a subsample in the right-panel, in info popups, and card view
Added an open button in the context menu when you click an item in grid or visual container view
We've also made performance improvements for image loading and uploading!
---
Release #3 - March 2021
In this release, we focused on improving navigation and the interface visuals!
2 minute overview video
Features
A tree view, for easier navigation when you have a lot of nested items (Toggle Inventory and Container Views)
A card view, which shows the thumbnail image and more item details (Toggle Inventory and Container Views)
We added a splash of colour to the right-hand panel, to make different item types easily distinguishable (see video above!)
Info popups have been reworked include more useful information such as item global ID, owner, quantity for samples and subsamples, and a contents summary for containers (Navigate Inventory)
You can now specify and toggle the row and column labels for grid containers to be your preferred combination (Customise Axis Labels for Grid Containers)
Clearer status indicators when creating, editing, or viewing a deleted item
---
Release #2 - January 2021
2 minute overview video
Features
Other feature and interface improvements based on user feedback include:
Split subsamples are now named equally (eg. subsample.08.1 and subsample.08.2)
Improved visual separation of fields and form sections
Character count is shown for text fields with limited length
Columns are now sorted in ascending order
---
Release #1 - November 2020
Features
2 minute overview video
Detailed progress video
---
---