RSpace Inventory Hub 🧪
Overview
RSpace Inventory is a sample and inventory management module that integrates fully with RSpace ELN, and is currently available as a production Beta release to Enterprise customers at no extra cost.
Inventory development is ongoing and is directed by user feedback. You can read detailed release notes below, as well as view our open development roadmap or contact us with feedback and questions.
This page contains details on how to access and get started with Inventory Beta, release updates, and information on how to sign up for updates and feedback requests.
Features
Workflow-driven

Integrated

Intuitive & Visual

✓ Easily configurable sample templates

✓ List, grid, and visual containers

✓ A high level of flexibility

✓ Toggleable views

✓ A frictionless import flow

✓ Access and manage sample data from within the ELN

✓ Inventory and Lists of Materials are kept in sync

✓ Global IDs of Inventory items

✓ Improve reproducibility by including reliable data about samples

✓ Directly deposit research data and associated sample data into repositories

✓ Modern interface without visual overwhelm

✓ Clickable location breadcrumbs

✓ Powerful search-based system

✓ At-a-glance info panels and visual containers

✓ A mobile-friendly design approach
A more detailed description of features can be found on our website, or you can watch our ELN - Inventory Integration Demo.
Roadmap
We're developing Inventory openly: you can view our planned features and follow our progress below.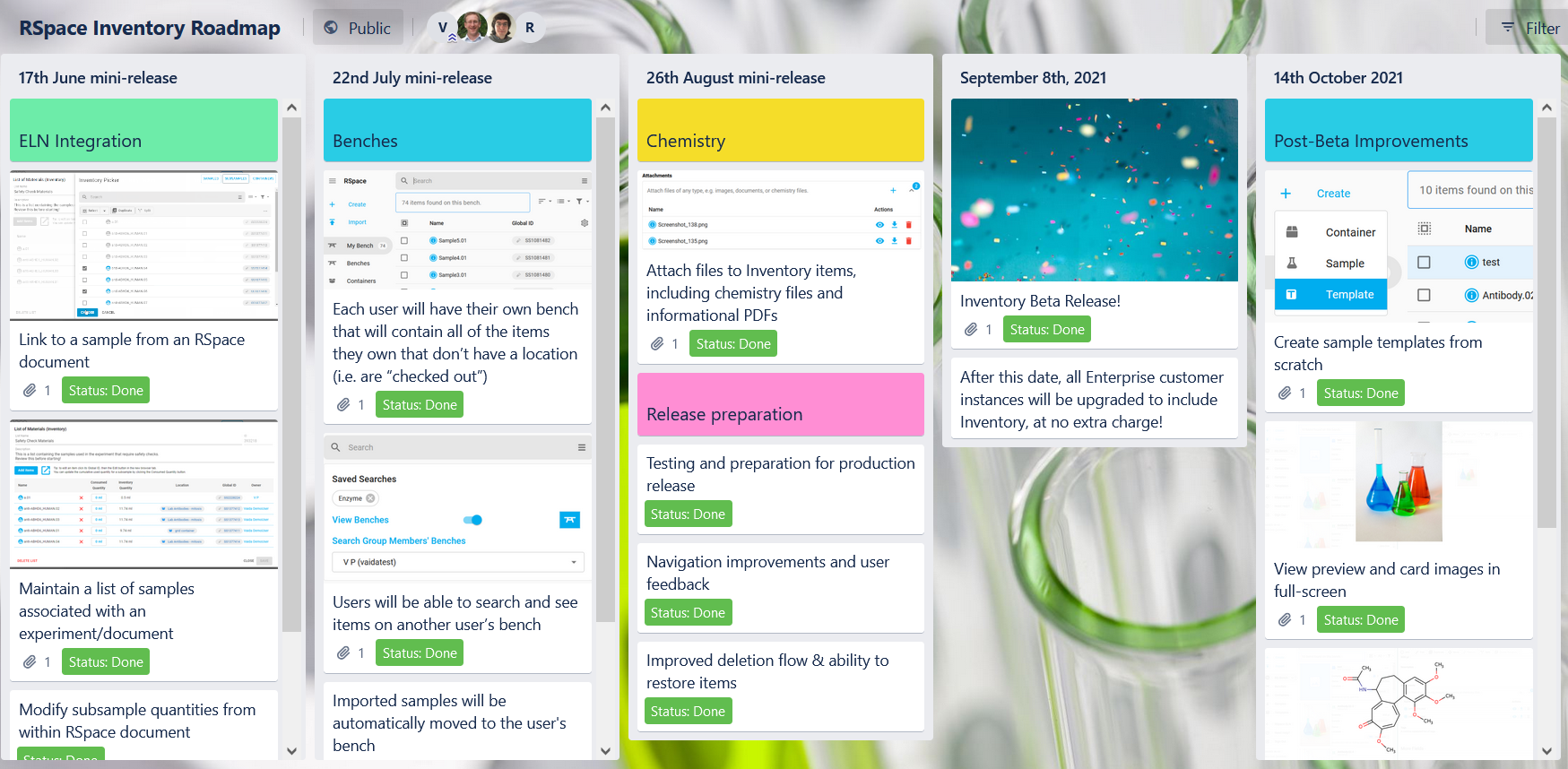 Access Inventory
Inventory Beta is going to be rolled out to RSpace Enterprise customers in the next few weeks after the September 8th launch. You will know right away when Inventory is ready to use as a new tab will be available to you:

Please contact your RSpace System Administrator for information on when your system will be upgraded.
If you wish to check out what Inventory Beta looks like in the meantime, you can try out our test instance, which anyone can sign up to (signup code is inventory2020).
System Administrators: Inventory is enabled by default, and also requires
api.available
to to be true. If you wish to disable it on your system, please disable
inventory.available
under
System > Configuration > System Settings
. Learn more at
Introduction to configuring RSpace Apps
.
Get started with Inventory
Extensive and user-friendly documentation is available for all Inventory features:
When using Inventory, you can search and browse our documentation and contact us using the Need Help? option in the sidebar.

If you have questions, bug reports, or have trouble accessing Inventory, feel free to email us!
Get Involved
We are developing Inventory with an open approach, and greatly value user feedback as it enables us to align our process with users' actual needs. We'd love to hear from you!
Access the test instance
The test instance is not suitable for real-life use, and content on the instance might be deleted. As such, please do not use the instance for real-life sample tracking.
The test instance enables users who do not yet have access to Inventory, such as prospective customers and Community users, to check out its features. If you are an Enterprise user, Inventory is available to you on your system; please refer to "Access Inventory" section above.
Use the sign-up code: inventory2020 when creating a new user, and you're good to start exploring, whether on a mobile or on a desktop device! The features currently implemented are documented in the roadmap and release summary down below.
Note: if you had previously signed up to the Alpha test instance, your login details will still work.
Release Changelog
We maintain a detailed changelog for Inventory, complete with video overviews and documentation updates. All Inventory videos and release updates can also be found on our YouTube playlist.
---
Release 1.76 - March 2022
In this release, we focused on improving Import functionality that will make uploading and accessing your samples, containers and subsamples quicker and easier than ever before! As such, we've implemented the ability to batch import containers, samples and subsamples in an integrated process in an effort to save you time.
We've also made improvements to the UI based on user feedback, including changes to make sample storage temperature easier to adjust and set. We hope you benefit from these improvements, and as always, let us know what you think!
Overview Video
Features
Batch Import Containers, Samples and Subsamples from CSV files (Import Samples and Containers into Inventory)
Imported items now are placed in their own Container on the workbench. This enables imports to be segregated and handled independently of each other. Previously, all imported items were placed directly into the Workbench.
Adjustments to Sample Storage Temperature UI: More robust and error-free
Numerous incremental improvements and bugfixes, including:
- Radio / choice field options are now displayed in Template View mode.
- Searches that are based purely on combinations of filters, without a query term, can now be saved and re-used.
- A default storage temperature can be set in a Template, so that all samples created from that Template will have that storage temperature set automatically.
---
Release 1.75 - February 2022
In this release, we focus on improving functionality that will make migration and use of large quantities of data inside of Inventory a seamless activity. As such, we've implemented the ability to batch import containers and specify their hierarchical structure, as well as making improvements to the importing flow in general.
We've also make large improvements to the performance of the system, both in terms of memory usage and speed, when it comes to dealing with large quantities of data such as nested grid containers. We hope you benefit from these improvements, and as always, let us know what you think!
Features
Initial support for batch importing containers and container hierarchy from CSV files (Import Samples and Containers into Inventory)
Further improvements to the ease of use of import, eg. if a CSV column is named after a default field ("Name"), it is pre-selected to convert to that field; choice and radio fields are better supported
Performance/memory enhancements when working with deeply nested grid containers
Various UI improvements: preview images in card view can be viewed full-screen, scientific notation is usable in subsample quantities, text in listings is selectable, and more!
---
Release 1.74 - January 2022
In the first release of 2022, we focused on feature improvements that will make things that little bit easier: batch editing of items means you can quickly update fields such as description, tags, and quantity for a group of items in one go, rather than having to make changes for each individual item. What is more, you can add a suffix to the name when batch editing, so that your items are neatly named using a number, letter, or date suffix!
We've also added the ability to give sample templates a custom word to use instead of "subsamples", to make it clearer what the Inventory entries refer to, and made various other improvements to the system, such as the ability to specify quantities of samples when performing an import. More details below!
Overview video
Features
---
Release 1.73 - December 2021
In this last release of the year, we've added more support for chemistry, by implementing a 2D/3D viewer for chemical file attachments that is available for chemistry files added to the attachments section of an item, or added to an attachment field on a sample. The latter is new: a general "attachments" sample template field that can be used to better organise attachments on samples, whether they're images, PDFs, or chemical files.
We've also made a few improvements to our import feature, as well as a few minor usability updates. We're looking forward to seeing you next year, as we have a whole list of exciting features we'll be working on: you can get a preview on our roadmap!
Features
---
Release 1.72 - November 2021
This release introduces a complete redesign of the advanced search: we've made it easier to discover and enable search filters by moving them to sit right below the searchbar, and we now display which filters are enabled for your current search to help you quickly understand what you're viewing. We're very happy with this redesign and hope you'll like it too!
We've also continued improving our templating functionality, by adding the ability to remove fields and options, and have also improved some of our interface visuals and communication. Let us know what you think of this release!
Overview video
Features
Redesign of advanced search (Search Inventory)
Ability to remove fields from sample templates, and decide whether existing samples keep or lose that field (Create and Use Sample Templates)
Ability to edit and remove options in sample template radio and choice fields
Ability to unselect a default radio option in sample templates
Clarified "Move all to bench" dialog in Lists of Materials, when there are items in containers already on your bench (Using Inventory Lists of Materials in the ELN)
Improved display of empty fields
Improved visuals when viewing an empty container
Improved search loading animation
Various bug fixes
---
Release 1.71 - October 2021
In this release, we focus on essential feature updates based on user feedback we received since the launch of Inventory Beta. This includes the ability to quickly create templates from scratch, useful previewing of images and chemical files, and improved performance, among other changes. In the coming months, we'll continue working on core features such as templating, chemistry support and exporting!
Note that Inventory is now part of our normal release cycle, which includes ELN changes, hence why it is part of release 1.71! We'll continue providing detailed release notes for Inventory features here, and you can find out about the ELN updates on our changelog.
Overview video
Features
Create sample templates from scratch (Create and Use Sample Templates)
Improved performance for large quantities of content
View preview and card images in full-screen
Preview chemical files that are added as file attachments (Add a File Attachment to an Inventory Item)
Improved visuals when starting on a fresh inventory
Pointers to documentation in the interface
Default landing location is now My Bench
Information on who you are logged in as available in the sidebar
Various bug fixes
---
Beta Release - September 8th! 🎉 🎉 🎉
The time has finally come! Our next-gen sample and inventory management system is now available to all new and existing RSpace Enterprise customers at no additional cost.
Inventory Beta is our first production release of the system, meaning it is ready to be used with your real-life samples. We've overhauled this page to include all the latest information on the release, and how to access Inventory Beta on your system. We hope you enjoy using Inventory, and are excited to hear what you think!
---
Release #8 - September 2021 - Final Pre-Beta Release! 🎉
In this release, we focused on ensuring that Inventory has a polished approach to deleting, searching, and restoring items, and added the ability to add file attachments, the final missing pieces for a usable inventory system. As this is the last release before Inventory moves into Beta and is deployed in production, we've reviewed and improved the performance of the system for a slick experience, as well as made a variety of usability improvements, such as making the owner of an item easily accessible, improving interactions with context actions, and overhauling the grouping of item fields for a more intuitive experience!
There's no video overview for this release, as we direct our focus on preparing for the Beta release! As always, here is a full list of changes:
Features
Improved deletion flow (Edit a Sample or Container):

Ability to restore items from trash
Added filters for searching items in trash

Ability to add file attachments to Inventory items (Add a File Attachment to an Inventory Item)
Updated icons to more intuitively represent various item types
Added more sample template examples, including example identifier fields
Added owner (and parent sample for subsamples) information in the header of all items
Added badge to select action, to indicate number of selected items
Added explanation to disabled context actions
Added informational toasts showing when actions are being processed
Made item field groupings more consistent
Improved subsample notes with better UI and HTML rendering
Enabled finding items by Global ID in search
Various performance improvements & bug fixes to make system robust for release
Ability to toggle availability of Inventory through the inventory.available System Administration property, off by default for this initial release (Introduction to configuring RSpace Apps)
---
Release #7 - August 2021
This release introduces Benches for all users! Benches are a place for storing newly created subsamples and containers, imported subsamples, or anything else that you decide to move into it; for example, you might want to move an item to your Bench if have checked it out from a freezer and are currently working with it, so your colleagues know that this item can be found with you.
We have also made improvements to list view display: you can toggle what data is shown in the second column, if you wish to quickly scan what the value is for your list of items. Also, you can now sort entries by various properties as well, in all view modes!
4 minute overview video
Features
Benches for you and your colleagues, for storing newly created or imported items, as well as items you are currently working on (Use Benches in Inventory)
Easily move all the items in a List of Materials to your Bench (Using Inventory Lists of Materials in the ELN)
Customisable list view column, so you can quickly overview and identify item properties (Search Inventory)
Sort entries by name, type, global ID, creation or modification date (Search Inventory)
Updated move dialog that now allows for search, advanced search, view toggling, sorting and easily navigating between benches and containers (Move Samples and Containers)
Left-hand panel breadcrumbs only appear on mobile view to improve navigation; they are disabled in desktop view as right-hand breadcrumb trail can be used (Navigate Inventory)
Adjusted pagination options to 5/10/25/100 (or "all" if less than 100) items (Search Inventory)
---
Release #6 - June 2021
This release introduces our ELN - Inventory Integration! You can now add Lists of Materials to ELN document fields, enabling you to easily associate Inventory items to experiments, as well as update the quantities of items as you use them up from within the ELN. What is more, Lists of Materials are automatically included when printing ELN documents, and can also be printed out on their own!
5 minute overview video
Features
ELN - Inventory Integration (Using Inventory Lists of Materials in the ELN 🧪):

add one or multiple Lists of Materials to ELN document fields
Give a custom name and description to a List
Search and add/remove items from Inventory to a List
Edit the used and remaining inventory quantities of an item (Edit Quantities in Lists of Materials)
Include the Lists in the print version of a document
Print a List on its own
Enable users with view-only permissions to a document to open the Lists in view mode

Filter items by specific owner, and enable advanced search everywhere: in containers, templates, Inventory Picker (Permissions and Sharing in Inventory)
Samples can be expanded to easily browse subsamples in tree view
Made visual container setup flow clearer
Various bug fixes and loading improvements
---
Release #5 - May 2021
This release is focused on permissions & sharing! We've implemented the foundations of open lab-type sharing, where members of your LabGroup can view and edit each other's samples. Email us to set up a test LabGroup and check out these features! We have also made improvements to navigation and selection.
Also, did you know that Inventory is being developed with an API-first approach? This means you can already explore the API through our test instance, and all the actions that can be performed through the user interface can also be performed through the API. See Inventory API Introduction for more!
2 minute overview video
Email us to set up a test LabGroup: vaida@researchspace.com
Features
---
Release #4 - April 2021
With this release, we bring out a major new feature: sample templates! We have made some general user experience improvements as well, see the video for more details.
What is more, our Inventory roadmap has been overhauled, and now includes detailed information on the exact dates that new releases will come out, as well as a date for the release of Inventory Beta: 8th September!
5 minute overview video
Features
Templates
Create a template from a sample: reuse its fields, define which fields should have default values
Edit a template: add new fields, add or remove default values for the fields, add additional radio/choice field options
Template versions: update all samples to the latest version of a template, view the template version used on a sample, with the ability to update that specific sample to the latest version
View all samples created from a template
View and search templates
Detailed templates documentation is at Create and Use Sample Templates.
General
Replaced the location and type columns by the global ID of the item across the interface, which can be clicked to open, or right-clicked to copy a link to the item (Link to a Sample or Container (Global ID))
Further improved info popups: added global IDs of items, made more concise for containers (Navigate Inventory)
Added links to a subsample's sample when viewing a subsample in the right-panel, in info popups, and card view
Added an open button in the context menu when you click an item in grid or visual container view
We've also made performance improvements for image loading and uploading!
---
Release #3 - March 2021
In this release, we focused on improving navigation and the interface visuals!
2 minute overview video
Features
A tree view, for easier navigation when you have a lot of nested items (Toggle Inventory and Container Views)
A card view, which shows the thumbnail image and more item details (Toggle Inventory and Container Views)
We added a splash of colour to the right-hand panel, to make different item types easily distinguishable (see video above!)
Info popups have been reworked include more useful information such as item global ID, owner, quantity for samples and subsamples, and a contents summary for containers (Navigate Inventory)
You can now specify and toggle the row and column labels for grid containers to be your preferred combination (Customise Axis Labels for Grid Containers)
Clearer status indicators when creating, editing, or viewing a deleted item
---
Release #2 - January 2021
2 minute overview video
Features
Other feature and interface improvements based on user feedback include:
Split subsamples are now named equally (eg. subsample.08.1 and subsample.08.2)
Improved visual separation of fields and form sections
changelogracter count is shown for text fields with limited length
Columns are now sorted in ascending order
---
Release #1 - November 2020
Features
2 minute overview video
Detailed progress video
---
---