Search Inventory 🧪
Inventory Beta is available to all existing and new Enterprise customers, and will be available to Community users in the near future. Learn more at the
RSpace Inventory Hub
.
By default, the left panel will show all contents of whichever section you have selected in the sidebar: Samples, Containers, or Templates.
Search query options
You can search for specific items by typing in the searchbar and hitting enter, which will display all items that have field values (name, description, tags, fields, global ID) matching your query.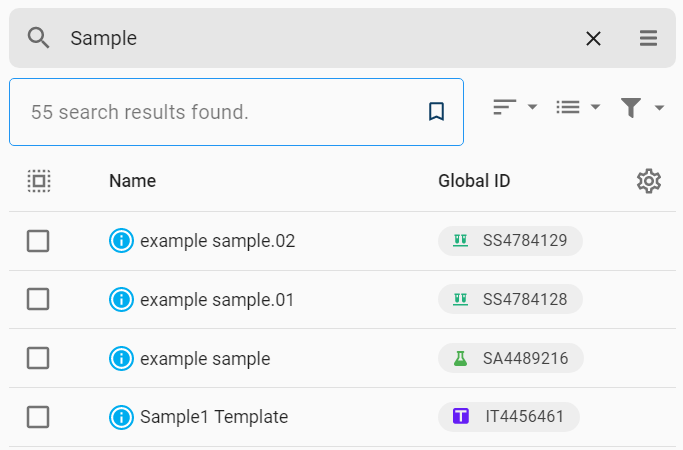 You can save a search by clicking on the bookmark icon, which will save your query and search filter.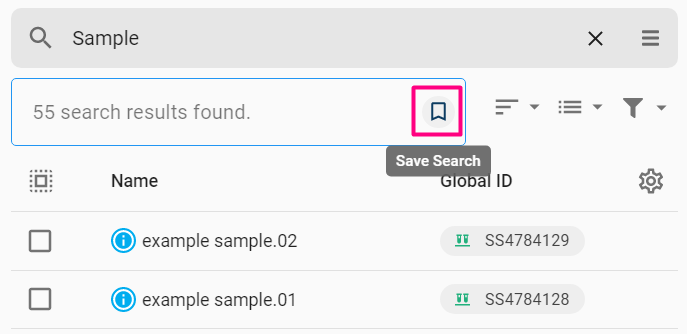 You can use the icon on the right of the search to open the advanced search and access your saved searches, filter the search results by type and status, and/or by owner (within the LabGroup), as well as search in your or other users' benches.
By default, search results only return Current items. You can view and restore items that are in the trash by filtering by either Current & In Trash, or by In Trash only.
If you perform a search again by typing in a query and pressing Enter, the advanced search filters will be reset to default.
You can close the advanced search using the same icon; your filter choices will be kept, and you will be able to view more search results on the page.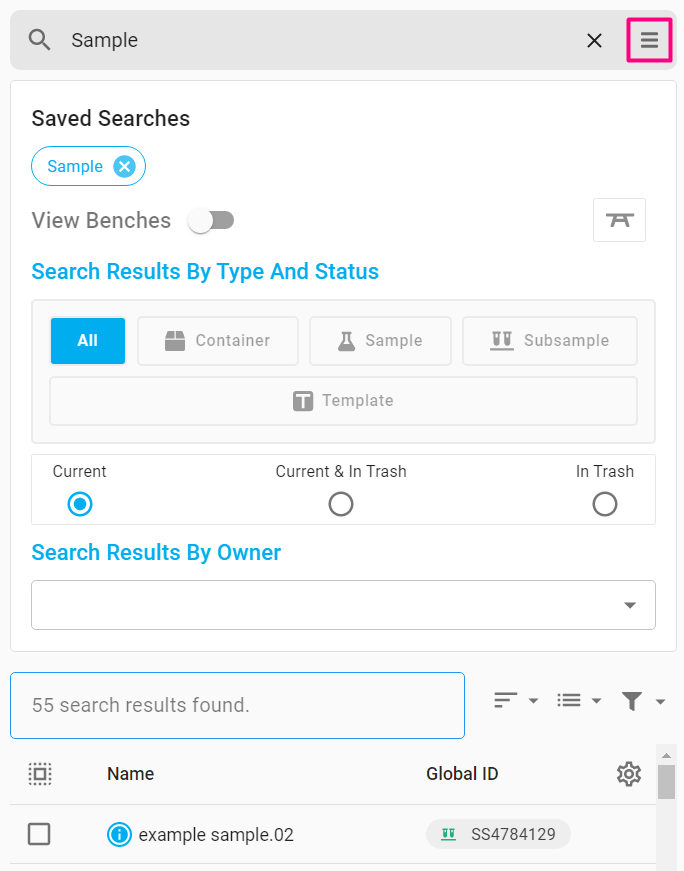 Advanced search is not available in grid/visual view of containers; switch to another container view to access advanced search. Depending on your location, some advanced search options might not be available due to the type of items that results list can contain.
Search results options
Sort order
You can use Sort By to change the ordering of the items. The options are Name, Type, Global ID, Created, and Last Modified, and clicking on an option again will change whether it is descending or ascending. The default sort order is by Last M3odified (descending).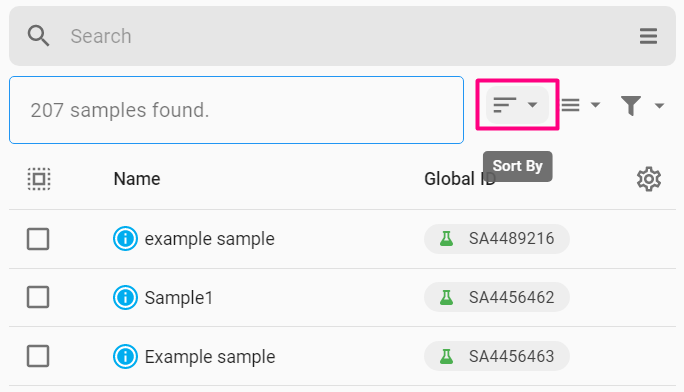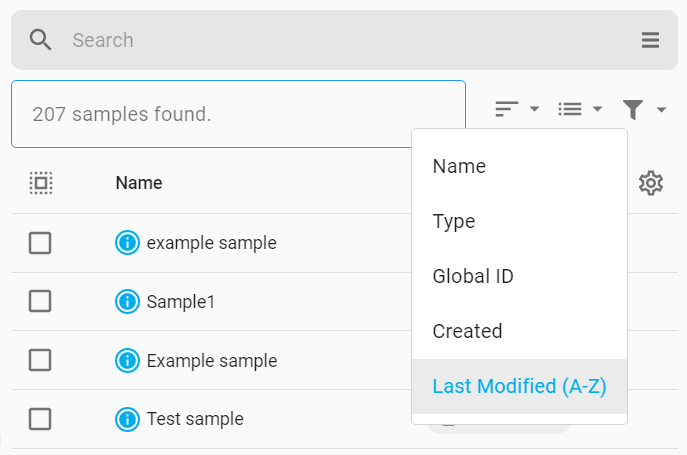 Views
You can use Change View to change between list, tree and card views, as well as grid and visual views for containers. Read more at Toggle Inventory and Container Views and Select Items in Inventory.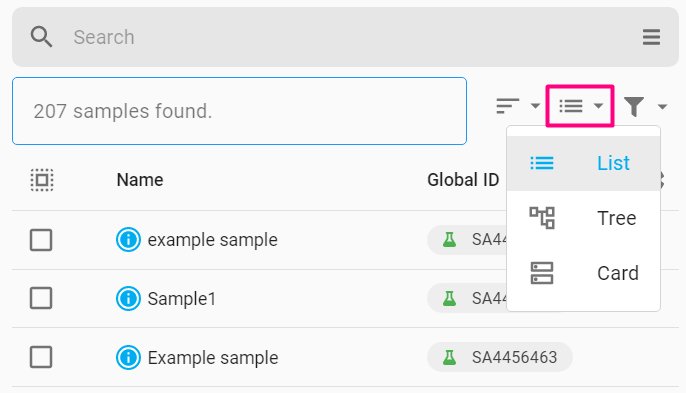 Filters
You can also use "Just Mine" in Apply Filters to grey out any items that you do not own in the search results. Read more at Permissions and Sharing in Inventory.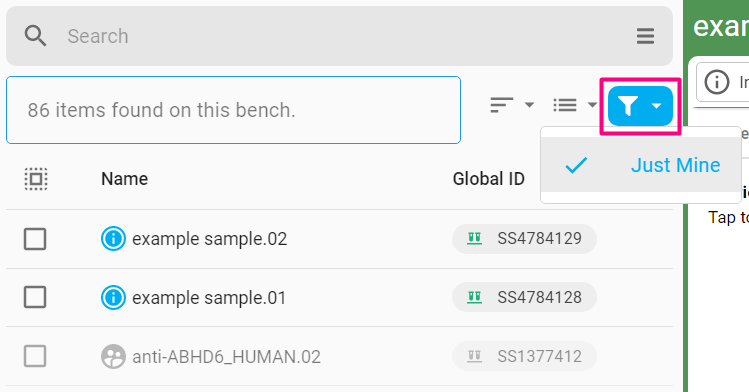 Customisable column
In list view, you can use the gear icon to modify what item details are shown in the second column. Your choice is maintained in that browser tab until a page refresh; the default column is Global ID.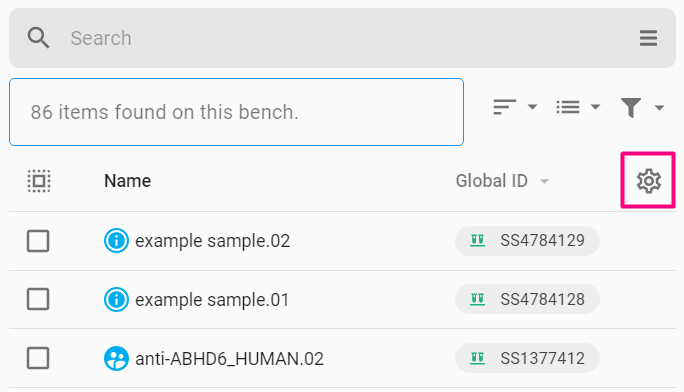 The available options will depend on what items you are currently viewing. If you have a mix of items, then selecting an option that is specific to a certain kind of item will simply show nothing in that column for the other items (eg. selecting Container Type will show nothing for Samples).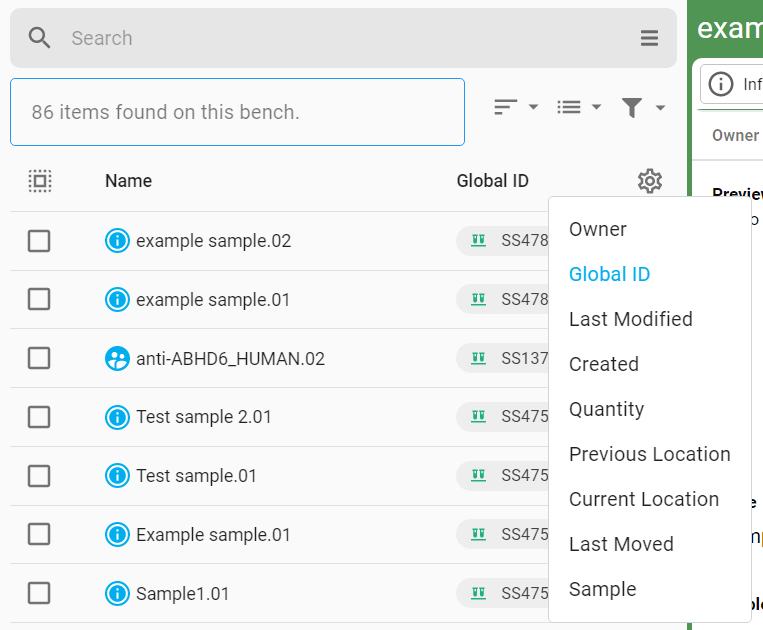 For Type, Global ID, Created, and Last Modified, you can click on the column header to change the sorting of the items by ascending or descending.

Column options and applicability
| | |
| --- | --- |
| Option | Applicable to? |
| Owner | All |
| Global ID | All |
| Last Modified | All |
| Created | All |
| Quantity | Samples, Subsamples |
| Expiry Date | Samples, Templates |
| Subsamples Count | Samples |
| Previous Location (that is not a Bench) | Subsamples, Containers |
| Current Location | Subsamples, Containers |
| Last Moved | Subsamples, Containers |
| Sample | Subsamples |
| Container Type | Containers |
| Contents | Containers |
| Version | Templates |
Ownership
You can determine whether you own an item based on the info icon: it will display as a people icon if the item is owned by someone else.

Global ID
Clicking on the Global ID will redirect to the stable link associated with the item. Read more at Link to a Sample or Container (Global ID).

Pagination
In list view, you can move between pages of search results using the arrows at the bottom of the table.

You can change how many items appear per page by clicking on the pagination number at the bottom of the table. The available options are to display 5, 10, 25, or 100 ( "all" if you have less than 100 items in the results) items per page.

Mobile View
On a mobile device, you can open search by clicking on the search icon: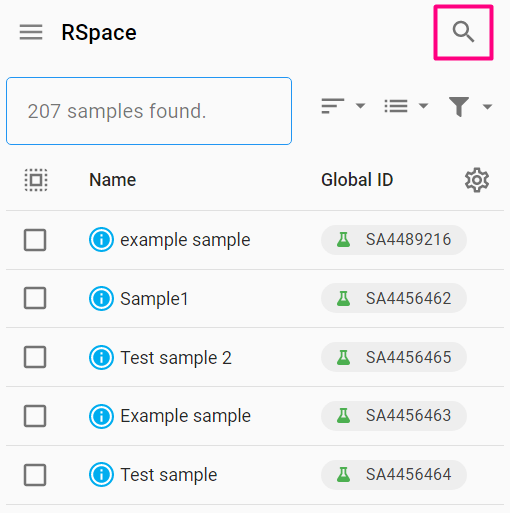 You can then type in your search and hit enter, then click on Show x results to view the results. You can also filter the results.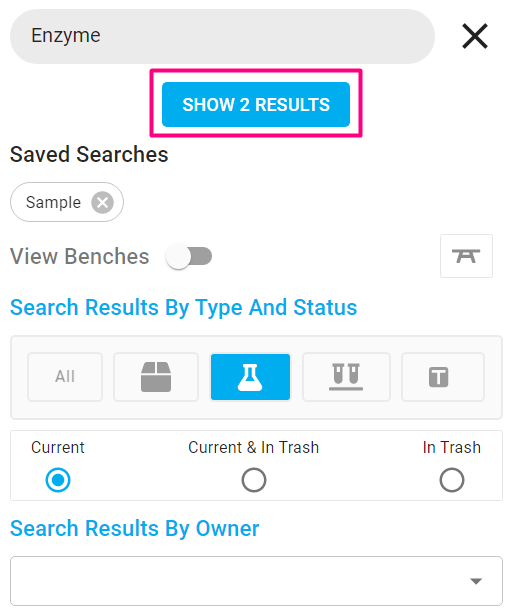 You can click on the cross to close the search menu.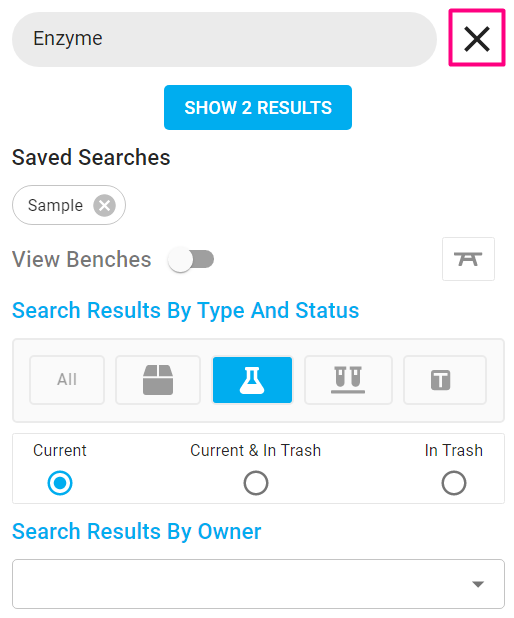 ---
---