Collaboration Between Labs
Collaboration Groups enable two LabGroups to create a new, hybrid group containing some or all the members of the original LabGroups.
Setting up a Collaboration Group
The two PIs of the collaborating groups need to authorise the creation of a Collaboration Group. The sequence of actions is:
One of the PIs (it doesn't matter which one, let's call her 'PIInviter' ) sends a request to the other PI (let's call him 'PIRecipient') to create a Collaboration Group.
PIRecipient receives the request
PIRecipient authorises the request
RSpace creates the CollaborationGroup. At this stage it will just have two members - PIInviter and PIRecipient.
Either PI can now invite people from either LabGroup to join the CollaborationGroup.
These steps are explained below in more detail:
Requesting a Collaboration
You can request a CollaborationGroup from either the Workspace messaging system: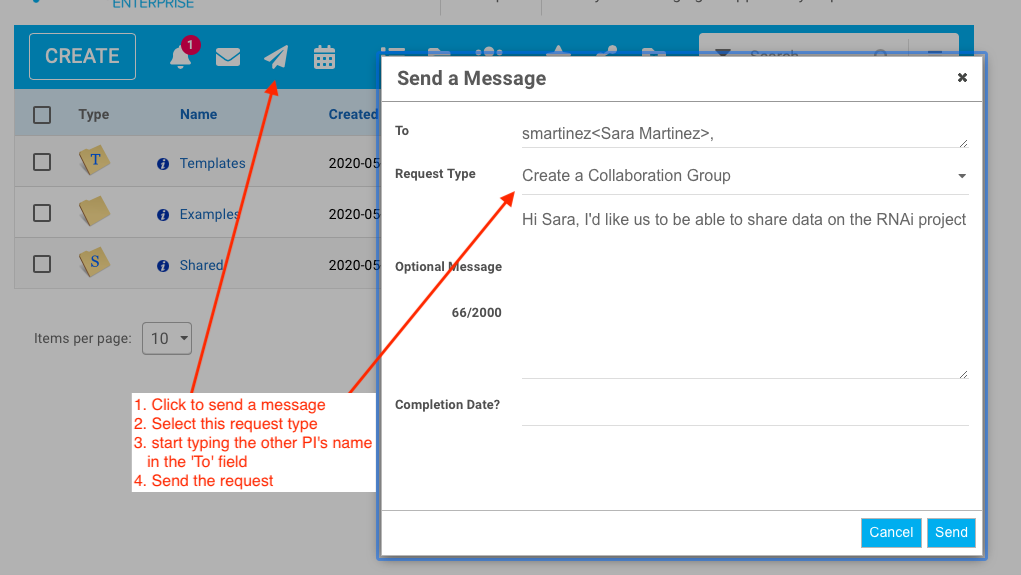 or, since RSpace 1.69.7, from a LabGroup profile page:

Start typing the name of the PI you want to form the group with, then select from the drop-down that appears
Fill in any optional message
Submit the form (you can leave 'Completion Date') blank.
Authorising a collaboration
This explains what to do if you are the recipient of a Collaboration Group request.
View your messages

If you are happy to create a Collaboration Group, set the Request to 'Accepted'
Click 'Update and Reply' to confirm the acceptance

RSpace will now create the Collaboration Group.
You can view the group in MyRSpace -> Groups page:

Initially the group has the two PIs as members. Either PI can invite people from either LabGroup to join:

---
---