Open Lab Autosharing
Introduction
The autosharing function, when enabled, results in documents created by a lab member to be automatically shared with all other lab members. This enables streamlined collaboration for groups that want to operate as open labs.
Autosharing works as follows:
When you enable autoshare for a specific group, all your current and future documents and notebooks will be shared with that group, with the "read" permission.
Your documents will appear in your lab members' Workspaces under Shared > LabGroups > GroupName_SHARED > Folder name you chose when enabling autoshare.
You still can give other lab members the "edit" permissions or unshare items, as described below.
Each user in a group has to enable autosharing of their work themselves.
How to enable autosharing
Navigate to My RSpace > Profile

Under the LabGroups section, you will find information on the groups you are in, and whether you have autoshare enabled for them. To turn on autosharing, first click on Enable Autosharing

You can provide a name for the folder your work will be shared into, instead of using the default username. For example, you could use your name as a folder name, to make it easier for other lab members to identify who the folder belongs to. Then click Confirm to enable autoshare. Note that if you have a large number of documents, you will receive a notification when the process is complete.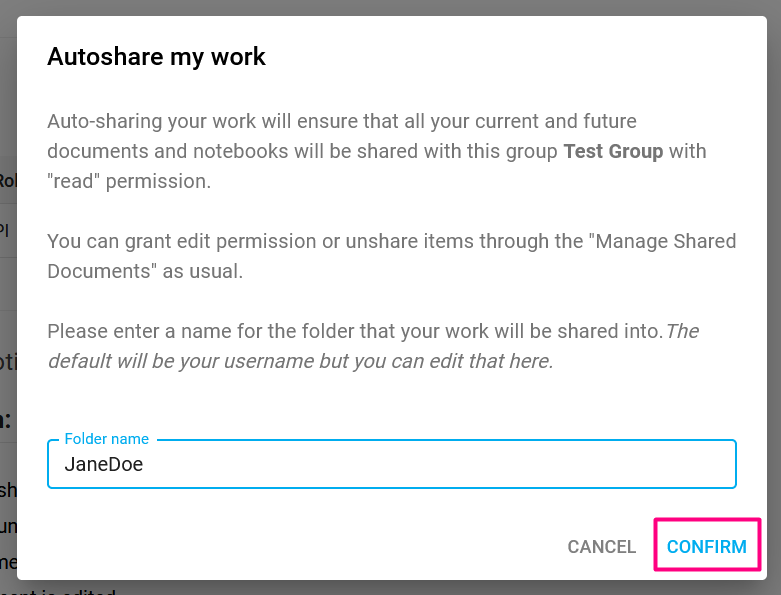 How to disable autosharing
You can disable autosharing for groups in the same place, under My RSpace > Profile > LabGroups:
Click on Disable Autosharing for the relevant group

Click on Confirm. Note that disabling autosharing will unshare all your work from the group. You will still be able to share individual items with the group using the default sharing mechanism.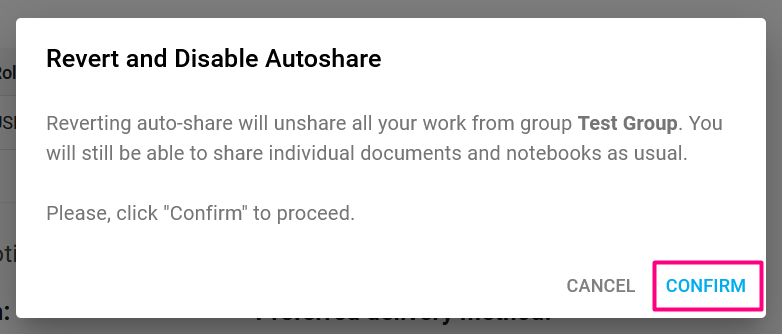 How to set edit permissions for a specific document
Navigate to My RSpace > Shared Documents

You will be presented with a full list of all of your shared documents, and who they are shared with. You can use the searchbar on the top-right to find the relevant document, then change the Permission column from READ to EDIT.
How to unshare a specific document
Navigate to My RSpace > Shared Documents

Search for the relevant item using the top-right searchbar, and click on Unshare in the Options column to unshare it.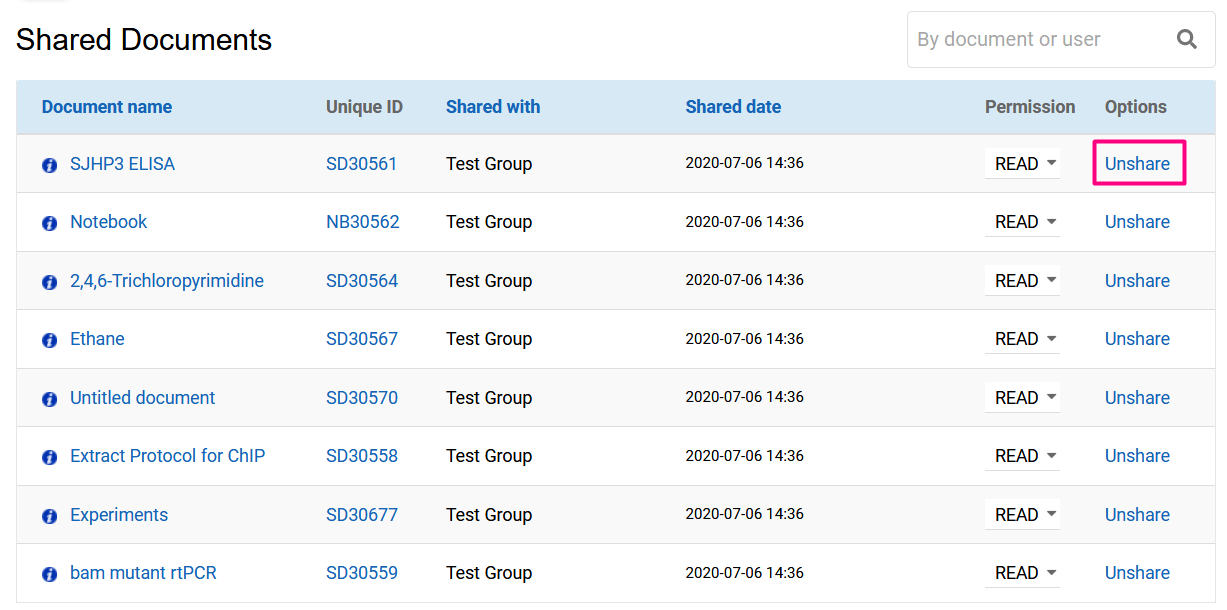 How to see who is autosharing in your labgroup
Under My RSpace > Profile > LabGroups, click on the labgroup name

In the members table, you will be able to see who has autosharing enabled and who has not.

How to view your lab members work
In the Workspace, click on the Shared folder, then LabGroups, then the name of your group. You will find folders for each lab member that has enabled autoshare. These folders contain all the contents of their Workspace. Note that shared files will be returned in normal search results, so you can use the searchbar to look for specific files.

---
---