Permissions and Sharing in Inventory 🧪
Inventory Beta is available to all existing and new Team and Enterprise customers, and will be available to Community users in the near future. Learn more at the
RSpace Inventory Hub
.
Introduction
Inventory currently supports an 'Open Lab' sharing setup within user's LabGroup(s). We are planning to develop more sharing options in the future.
The current permissions and sharing rules are:
All Inventory items belonging to LabGroup members are visible to everyone in the LabGroup
Items can be edited, moved, and deleted by anyone in the LabGroup
You can transfer your own items to another user, who can be anyone in the system. PIs and LabAdmins can transfer items of other members of their LabGroup
Access within CollaborationGroups is limited to PIs and their items
More details on sharing and permissions functionality are presented in the the following sections.
It is not possible for users to directly create LabGroups on Inventory Demo Server. Please
email us
to set up a test LabGroup if you wish to try out these features!
Detailed Permissions
Anyone can:
view/edit/transfer owned inventory items
view items inside owned containers
view a container that stores owned items
view/copy default templates
Group member can:
view/edit inventory items owned by members of their group
Group's PI/Lab Admin can:
view/edit/transfer inventory items owned by members of their group
Community Admin can:
view items owned by members of their community
System Admin can:
View items owned by a specific user
You can restrict searches to show items owned by a specific user by clicking 'Owner' dropdown under search menu, and selecting the user. The list that appears contains users whose items you can see, e.g. members of your LabGroup.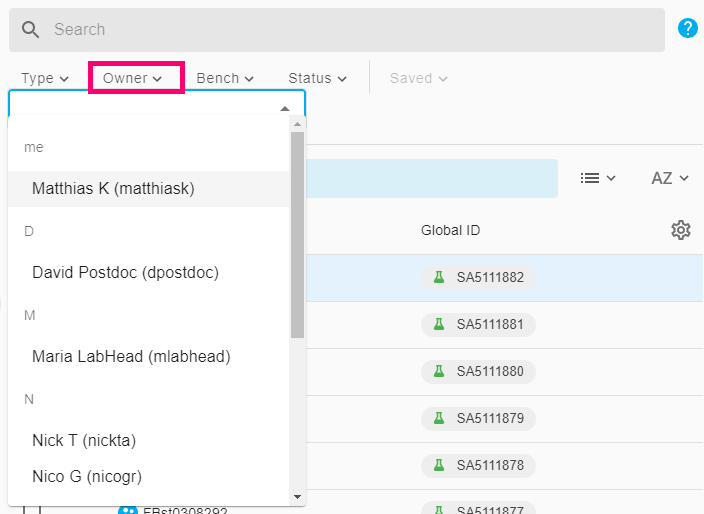 Filter by items you own
Items you own will have the default 'info' icon. If the item is not owned by you, the icon will display as a 'people' icon to indicate that this is an item shared with you.

You can filter for items which you own by clicking on the 'owner' drop down and choosing the username listed under 'me'
Transfer Ownership
This action can only be undone by the recipient or their PI, by having them transfer the items back to you.
Subsamples cannot be transferred individually; only the whole sample, including all subsamples, can be transferred.
Transferring ownership of an item to another user gives the new owner full control over the item. Only the current owner of an item, or a PI/LabAdmin of the LabGroup can transfer ownership of an item. The recipient of the transfer can be any other RSpace user.
Click on Transfer on an item

Select a user to transfer the item to. You can use the dropdown to choose from the list of users in your LabGroup, or start typing a name or username of a user in the wider system, then select from the autocomplete options.

Click on Transfer to confirm the transfer.

You will get a success notification. Note that if you are transferring to a user outside of your LabGroup, this will trigger a notification about the item not being viewable anymore.
Editing Shared Item - Edit Locks
An edit-lock system prevents users from accidentally modifying the same item simultaneously. When you start editing an item, other users will not be able to edit the item. The edit lock is released once you stop editing, by either saving, cancelling, or timing out.

To prevent items from being locked for a long period of time, the edit lock times out after 5 minutes of inactivity. If you're currently editing, you will get a warning after 4 minutes of inactivity that your editing session is about to expire, and you can choose to renew the lock.

If you do not renew the lock, the lock will expire and another user will be able to edit the item.
If you lose the lock, you will still see the unsaved changes you've made, but will not be able to save so as to not overwrite any new changes made to the item. To add these changes to the item, click on edit again to claim the edit lock, then make the changes.

Collaboration Groups
Inventory 'Open Lab' permissions rules currently apply to standard LabGroups, not to Collaboration Groups. The access to items owned by members of Collaboration Groups is currently limited to PI users and their items:
PIs involved in collaboration can see and edit each other's inventory items
PIs cannot see items owned by members of other collaboration group
members of collaboration group cannot see items owned by members of other collaboration group
This behaviour is likely to change in the future.
---
---