Sharing Content
Overview
Sharing documents and working collaboratively on them is an essential and core workflow in RSpace. This article covers sharing of:
Documents
Notebooks
Folders and Gallery items
The Shared Folder
All users who belong to at least one LabGroup can access the main shared folder and various sharing sub-folders, where shared content can be found. To place a document or notebook inside the Shared folder, you have to explicitly share content, and in the case of sharing with a LabGroup or Collaboration Group, you can also specify where the content should be placed inside the Shared LabGroup folder. When you share an RSpace document, a link (also sometimes called a shortcut or alias) is created in the appropriate shared folder, where the document and any attached files within that document can now be accessed by other users. Sharing a document has no affect on the location of the "original" item in the owner's workspace.
This allows everyone in your LabGroup to see the same view when looking in the Shared folder, while each individual can organise their documents in the Workspace however they want without affecting the organisation of items the Shared folder. It also ensures documents are always created privately, and then shared, preventing accidental sharing.
PIs and LabAdmins can organise the Shared folder of their LabGroup by moving Documents and creating folders. Members of the LabGroup can create folders, as well as select a specific folder to share a Document into, but do not have permissions to organise the Shared folder.
You can view more in-depth examples of how to structure sharing at Examples of Sharing Scenarios and Project Organisation.
Sharing a Document or Notebook
You can share one or more documents, and they can be shared with groups (LabGroups or Collaboration Groups) and select individuals (in the case of Community, both RSpace users and not yet registered).
The document sharing process is applicable to Notebooks as well, but permission handling for Notebooks is slightly different (see permissions within shared notebooks).
To share a document:
In the Workspace view, select the checkbox of one or more documents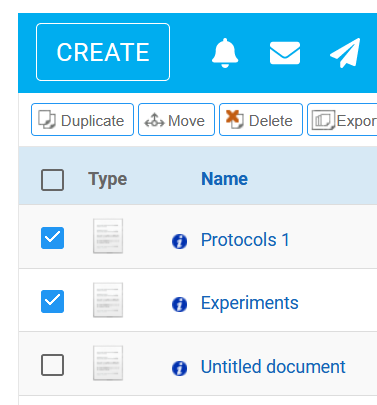 In the context menu that appears, click Share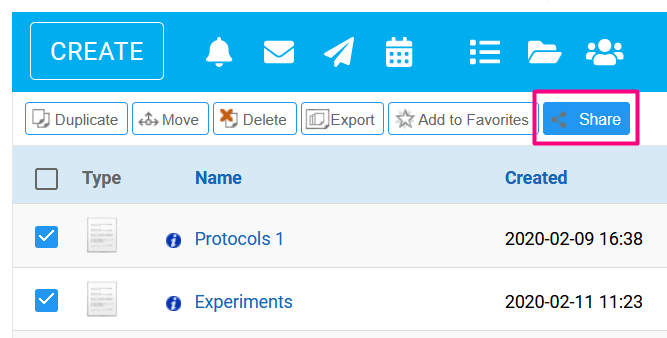 You can now select who you want to share with. Click on a category (as shown in screenshot) to define who to share with and the permissions they will have. You can define sharing across the three categories, and your choices will all be applied when you click on Share.

For Share with Group, select the relevant group. You can then define permissions (either read or edit) and which folder or notebook to share into (optional). If you do not select a folder/notebook to share into, the Document will be placed at the top-level of the Shared folder. Sharing with multiple groups will require you to go through the process several times.

For Share with Users, you can share documents with individual users that are in the same group(s) as you. This is useful if you don't want to share your document with all the members of a group.

In Share with Others, you can share documents with users who are not in the same groups as you. If you are using Community, you can invite not yet registered users. Start typing a user's name, username or email and RSpace will auto-suggest matching users. The users will be sent an email invite, and the sharing occurs once the invitation is accepted. Non-RSpace users will have to sign up before they can see your document.

In

RSpace Enterprise

, sharing is currently limited to the members of your

LabGroups

(s) and some other users on your server. The option to

Share with Others

will not be available. Wider collaborations can be enabled using

Collaboration Groups

. and

Project Groups

. In

RSpace Community

, all users can share documents with any other user, or even invite totally new users to use RSpace.

Click on Share. This will immediately share the selected document(s) with the selected groups and/or users, with the specific read/edit permissions across the three sections.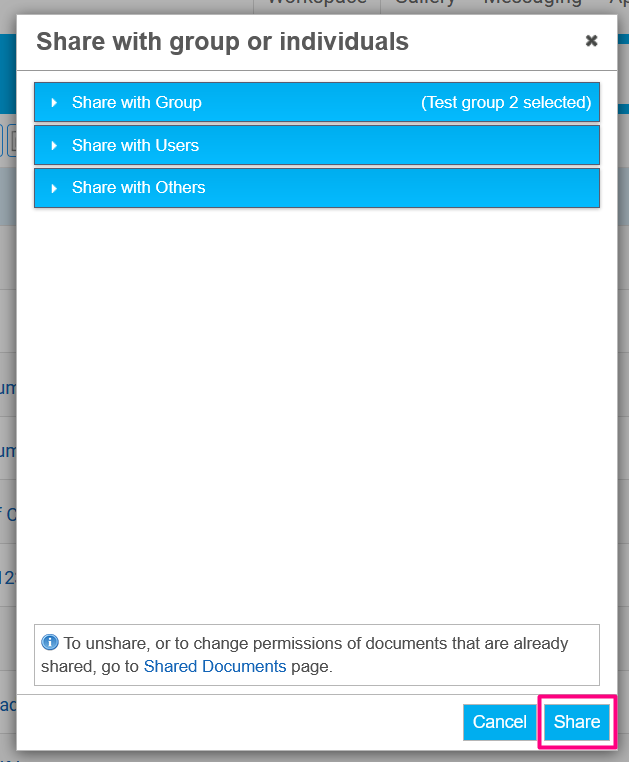 Depending on what settings the user(s) you have shared with have enabled (see My Profile and Authentication), they will get a email notification and/or an RSpace notification.
Viewing a Shared Document
Shared documents will appear in the main Workspace, under the Shared folder. The Shared folder contains a folder named IndividualShareItems, CollaborationGroups, and LabGroups for documents shared with individuals, Collaboration Groups and LabGroups. For example, a document shared with TestGroup will be found by navigating to Shared / LabGroups / TestGroup_SHARED.
Shared documents will have an icon indicating that they are shared:

You can use the Shared with me filter in the Workspace toolbar options to view shared documents.

You can also search for a specific shared document like you would normally, or use Advanced Searching to filter documents by owner.
More details are provided at Viewing and Organising Shared Group Content.
Editing a Shared Document
Each RSpace document can be edited by one user at a time. When a user starts editing the document, no other users can edit it until the user doing the editing saves and closes the document, or when their session expires. When editing, new content is periodically autosaved.
A shared document can be viewed by any number of users simultaneously. If a document is updated, this will not refresh another user's view page. However, if the user decides to edit, the page will refresh and open the editor with the most recent version of the document.
View Sharing Information of a Document
To view the owner and sharing information of a document:
Click on the File Info Button of a document

You will be able to see the owner and with which groups and permissions the document has been shared in the info panel.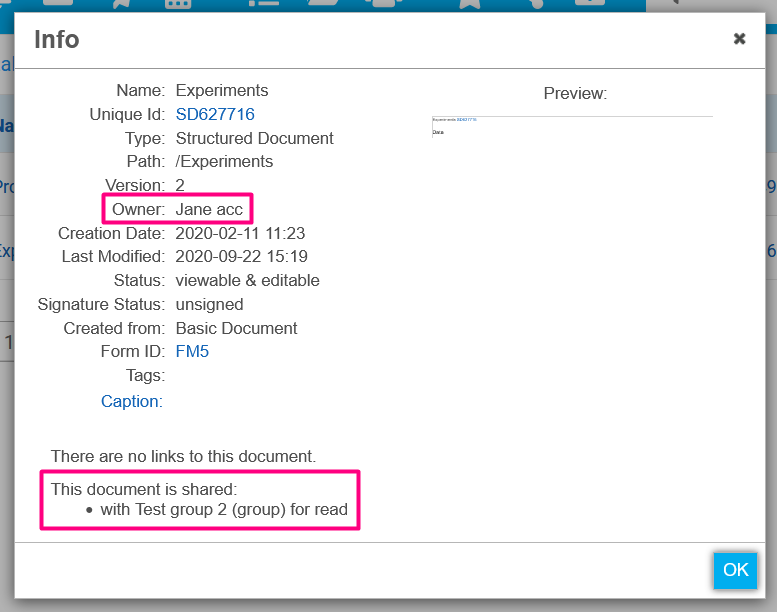 Unsharing or Editing Permissions of a Shared Document
Navigate to My RSpace

Select Shared Documents (you will have to use the arrow on the right side to see it)

You can see a list of your shared documents, including who they are shared with and the permissions applied. You can also see your shared document requests at the bottom. You can use the Permissions dropdown on the right to edit permissions, or click on Unshare to unshare the document. It's not a bad idea to re-visit this area periodically to review what work you are sharing with your colleagues and make any changes you like if your collaboration needs have changed.

Sharing a Folder or Content from the Gallery
It is not possible to directly share a folder from the Workspace or the Gallery with other users. However, one can share LINKS to folders or collections of files from the Gallery using alternative methods described in Sharing Folder or Gallery Contents.
Learn More About Various Sharing Scenarios for Individuals, Projects and LabGroups
If you are PI you will probably want to read about some examples of various ways to share data, segregate data into projects and set up appropriate ownership of shared work.
We also recommend that PIs take a moment to learn more about different types of LabGroups and understand how to see and manage shared work belonging to users who have left your organization (e.g., students who have graduated.
---
---