Viewing and editing Microsoft Office attachments
The Microsoft Office integration is currently available to RSpace Community users by default. Contact
support@researchspace.com
if you want to use it on your RSpace Team or Enterprise instance.
If your University prefers not to use MS cloud based products, you can offer similar functionality using a product called
Collabora Online
Introduction
RSpace Community is integrated with Microsoft "Office for the web" service to provide best experience when working with Word / Excel / PowerPoint files. Office files uploaded to RSpace can be viewed and edited directly in the browser through fully featured UI provided by Microsoft.
Relevant 'Open in Word/Excel/Powerpoint' button will appear in RSpace in various contexts whenever you work with Office-type attachments. For example in notebook view you'll see "Open in Excel" action next to any .xls or .xlsx attachment.

You don't need Office 365 license to preview Office attachments, but you need one to to edit them.
Required Office 365 license
Editing office attachments requires Office 365 license covering "Office for the web" component. You'll be asked to authenticate with Microsoft on the first attempt to edit Office attachment. If you have multiple Office accounts (e.g. home and institutional) make sure you log in with the one having a correct license.
To check the details of your Office 365 license follow this guide.
Viewing RSpace files in Office for the web
To open attachment with Microsoft Office UI click on 'Open in Word / Excel / Powerpoint" action appearing in context menu of RSpace attachment, or in the right hand info panel for Office documents in your Gallery. This will open a new tab in your browser, presenting the document within Microsoft UI.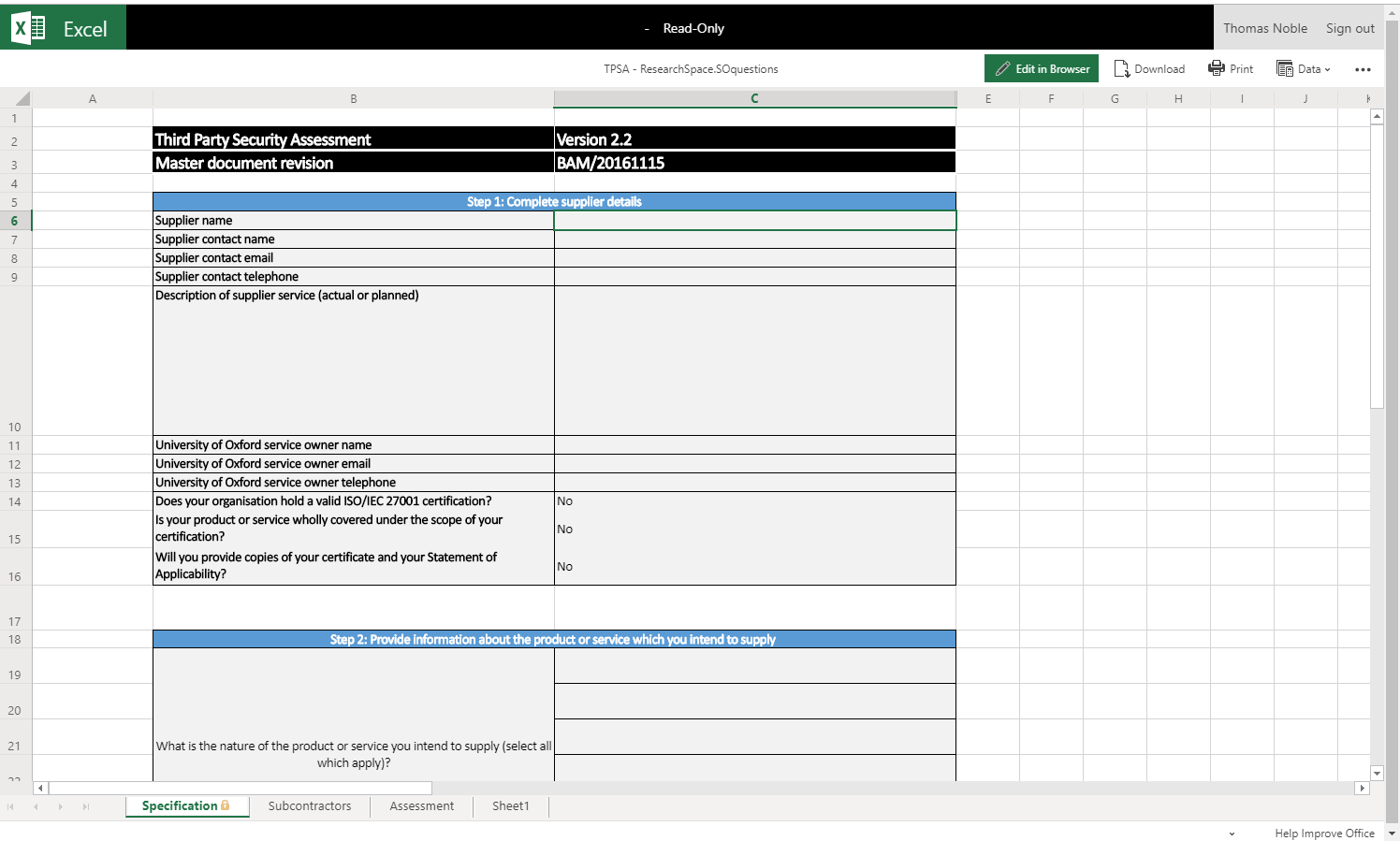 Editing RSpace files through Office for the web
Edit action requires Office 365 license covering "Office for the web" component.
Select 'Open in Word / Excel / Powerpoint" action in attachment context menu to open the file for viewing, then switch to edit mode using 'Edit in browser' button in Office for the web UI. At this point your Office 365 license will be checked, and Microsoft UI will switch to edit mode.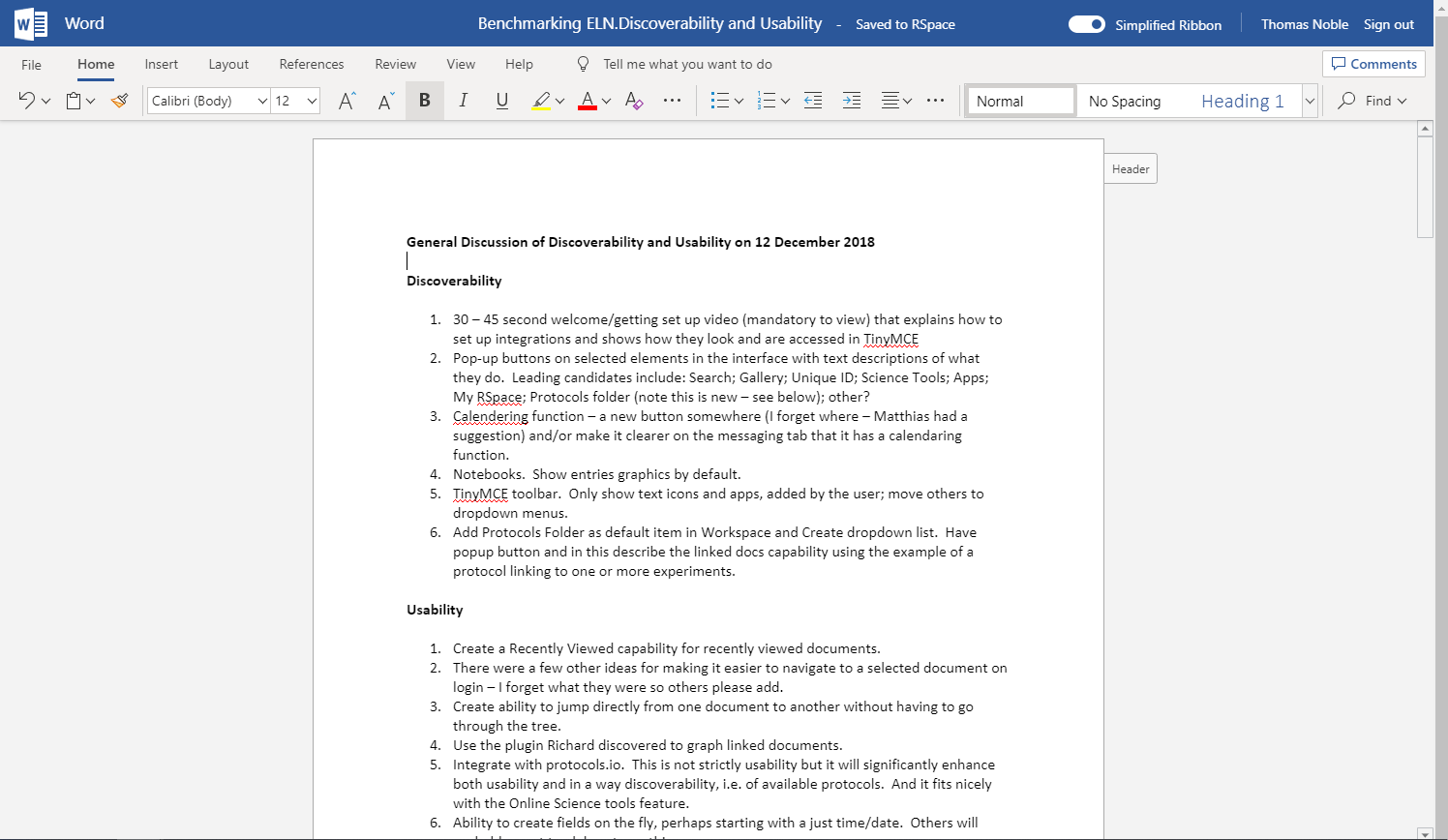 "Edit in browser" action will only be available if you have RSpace 'edit' permission for the file, that's if you've uploaded the file yourself, or if the file is attached to the document that is shared with you with 'edit' permission.
Any changes applied through Office are saved back to RSpace. After you finish editing switch document back to 'view' mode in Microsoft UI, or just wait for the 'Saving... saved to RSpace" message to appear and close the tab. The new version of the file will be saved in RSpace and a version badge will appear next to the attachment in notebook view.
Troubleshooting
License problems
If you believe you should be able to edit Office files but you can only view them (and 'Edit' action results in insufficient permissions or some other problem) it may be that your browser stores Microsoft credentials for a wrong Microsoft account.
Go to https://login.microsoftonline.com/ and see if that page redirects you to an active account. If it does, sign out of that account (you may need to use 'My Account' -> 'Sign Out'). Open https://login.microsoftonline.com/ again and confirm you're no longer logged in (the browser should show 'Login' or 'Pick an account' page). Go back to RSpace and try editing the document again, after authenticating with a proper account you should be able to edit the file fine.
Office gets stuck in a loop
If editing does not work in Safari, with Office getting stuck in a loop after entering account details, try disabling "Prevent cross-site tracking" under Privacy in Safari's settings:

A note on privacy and security
When using Office integration the opened files are transferred from RSpace to one of public Microsoft servers. All subsequent actions that are done through Office UI are handled by the Microsoft service, not by RSpace. In many cases that's more secure and convenient than alternatives (e.g. downloading the file to your local computer, editing it using your desktop Office application, and uploading edited file back to RSpace), but if you don't want your files to be processed by Microsoft servers, then you shouldn't use the RSpace Office integration.
Microsoft Office web servers are not guaranteed to be in any specific geographic location.
---
---