System Administration Introduction
The following information is only applicable to a Team or Enterprise instance of RSpace.
Your Team or Enterprise RSpace server can be configured and managed using one or more RSpace Administrators or System Administrator accounts.
It is important that System Admin accounts be used ONLY for System Administration tasks and NOT for adding production data. If you are both an Administrator and a contributing scientist, then you will need two different logins for those two different roles. Administrator accounts are free and do not contribute to your total number of licensed seats. 
The System tab provides administrators with tools to manage individual users, to manage groups and communities, and to monitor and troubleshoot user activity. Only RSpace Administrators and System Administrators can access this tab. RSpace Admins' actions are limited to affecting only their own Community, while full System Administration is deployment-wide.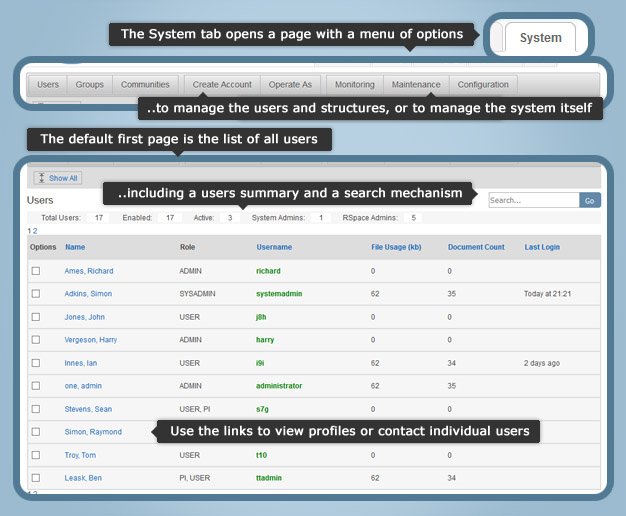 Tools to the left of the toolbar are used to create and manage entities in the RSpace deployment – from individual users and the roles or permissions they are granted, to LabGroups managed by PIs and Lab Admins, to Communities, which are an administrative block of groups which are able to see and interact with each other, comparable to a department or faculty. On the right of the toolbar are tools for administration and maintenance of the system, from scheduling down-time to configuring deployment properties and troubleshooting user problems.
Your default System tab page is the SysAdmin Directory of all users – a list of all the users on the system, which can be used to contact or view information about any individual. The page is headed up with a summary overview of user statistics, and the individual entries also give insight into the basic space use and document count of each user. The list is initially paginated, but a 'Show All' button allows creation of a single page list of the entire user-set, for copying or exporting.
The 'Active Users' tab shows a list of users currently logged into the system. When scheduling downtime a list of active users is also shown. A user is no longer listed as 'Active' if they have either explicitly logged out, or (as of version 1.35) their user session has timed out.
Managing groups
The 'Groups' page shows information about the groups, along with some usage information:
the number of users per group
creation date
Total file usage in RSpace file store
The PI
From this page you can also:
Create a new LabGroup
Export a group's work
Delete a group
Deleting a group will not delete all the user accounts in the group, it will only remove the group itself.Users' work will remain unaffected.

For additional topics related to management of your RSpace system using the System Administrator (sysadmin) account, see the main System Administrator page
here
.
---
---